About Us
About Oilybits Ltd
HOW TO CONTACT US
Situated in the heart of the Dorset Countryside, 2 miles south of Shaftesbury, we are easily accessible to (pre-arranged) visitors travelling via the A303, or South from the M4 via the A360. Typing our postcode 'SP7 0AS' into a Sat-Nav should bring you right to the entrance to Black Venn Farm, a gravel driveway leads to Unit 1, opposite the Farmhouse, please contact us prior to making any visit as we are not always on site.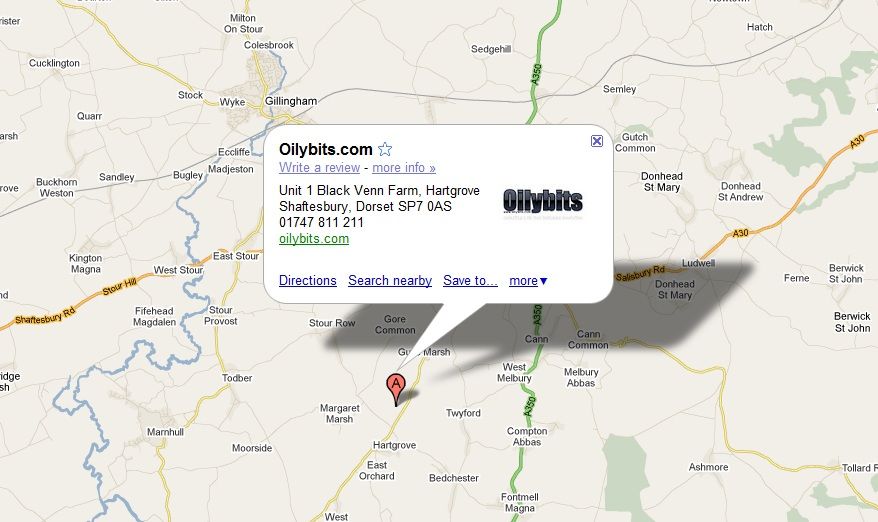 UNIT #1 (Collections & Deliveries)
Oilybits Ltd
Unit 1, Black Venn Farm
Lower Hartgrove
Shaftesbury
Dorset
SP7 0AS
United Kingdom
International +44 (0)1747 811211
Email: sales(at)oilybits.com
Company Reg; 07554137
TERMS AND CONDITIONS OF SALE
Oilybits Ltd, Herinafter referred to as 'Oilybits'
All orders placed are subject to these conditions of sale and the placing of an order shall be considered to be acceptance of these conditions.
1. PRICES
Prices are subject to change without notice. We reserve the right to cancel your order prior to dispatch should technical problems or human error result in incorrect prices being advertised via our website. Should we cancel your order, any money paid will be returnd in full, this is allowed under Trading Standards regulations under human or system error.
2. VAT
All prices shown include U.K. VAT at the current rate, if you require a VAT receipt please request one at the time of order or email a request to sales(at)oilybits.com. Goods moved outside of the UK but within the European Union may be supplied exclusive of U.K. VAT providing the purchaser is a VAT registered business in their own country, and their VAT number is provided to us prior to placing of an order, this number must pass as 'valid' on the VIES Online Checking Facility or we will be unable to supply exclusive of U.K. VAT, should the customers business de-register for VAT within the VAT quarter, then the customer will be liable for payment of U.K. VAT. Goods exported outside of the European Union will be supplied exclusive of VAT, however our website will automatically charge U.K. VAT on all orders so please send a list of your requirements to us by email so we can raise an invoice manually. Our U.K. VAT Number is GB 927007045, EORI Number GB927007045000. For European suppliers, our VAT Number can be verified HERE
3. PAYMENT TERMS
All goods must be paid for in full prior to despatch unless you hold a pre-arranged credit account with us. Payment methods currently accepted include the following;
Credit / Debit Card – Online payments are automatically processed by Sagepay www.sagepay.com upon completion of checkout. We can also accept Credit / Debit Card payments over the telephone
BACS – Account details are provided upon placement of order
CHAPS – Account details are provided upon placement of order
SWIFT / IMM (International Money Mover) – Account details are provided upon placement of order, a £7.00 fee is charged to cover bank reciept fee.
Cash Deposit – May be paid at any branch of Lloyds TSB Bank Plc. Account details are provided upon placement of order
Cheque – Made payable to 'Oilybits Ltd', and sent to the address at the foot of this page
Cash – To be sent at your own risk or with adequate insurance to the address above
4. DELIVERY TIME
Upon reciept of payment, and providing our systems have captured your order correctly and at the correct prices, goods will usually be despatched within 10 (TEN) working days and by the most economical means available, If you require a priority service, please contact us for a quotation. Items sent by Royal Mail are subject to Royal Mail Terms & Conditions, most importantly, this states that delivery of items sent 1st or 2nd class items can take up to 15 working days. The estimated time of delivery, whilst given in good faith, is not the essence of the contract. Oilybits shall not be liable for consequential loss, in respect of delayed deliveries due to any reason, and howsoever caused.
We are not always able to despatch within our anticipated time frame, this is because we are a small business and our hours of business are somewhat casual. If we are on holiday, orders will be dealt with upon our return, a holiday notification will be displayed on our homepage whenever we are away and providing you have registered the correct email addres with us, an Auto-Respond email will be sent informing you of the situation, once you ahve placed your order. The site has no functionality beyond this to alert customers to a holiday situation.
If a product is out of stock or has to be ordered specially, then dependent upon the stock situation with the manufacturer, and the location of the manufacturer (some being overseas), delivery could take up to 6 or 8 weeks. For this reason, if any part of your order is urgent, we encourage you to contact us to check availability prior to purchasing, we will then check stock, and if necessary contact manufacturers and provide you with an ETA.
Due to 2013 Royal Mail pricing changes, particularly regarding package sizing, we are no longer able to offer reduced rates for shipping, all orders will be subject to a minimum £9.50 shipping & handling charge irrespective of order value,for orders of very low value, this covers our time when the items profit is insufficient to do so.
5. RETURNS
Items returned as 'not required' will only be accepted if in new, UNUSED condition, with original, clean packaging and within manufacturers guarantee, all returns from business customers may be subject to up to a 25% restocking charge to cover our administration fees, and restocking fees imposed upon us by our own suppliers, we will not refund at all for any goods which have been used or soiled in any way. Items sourced to a customers specification cannot be returned for credit unless they are suspected to be faulty. All carriage charges must be paid for by the customer but we may reimburse these costs if the goods are faulty and within manufacturers warranty. Goods cannot be returned in person unless by prior arrangement. Returned items lost / damaged in transit to us must be claimed for by the sender.
6. CARRIAGE
All prices exclude carriage and packing at the standard rate of £9.95 for delivery to U.K. DESTINATIONS ONLY. It is recommended that goods are fully inspected upon delivery or signed for as UNCHECKED. Shortages and / or transit damage must be signed for as such on the delivery paperwork, and notified in writing to us within two days of delivery. Claims beyond this period can not be entertained. Collections from us are not permitted without prior authorisation.
With the exception of Padded-Envelopes, Tape, and Document-Slips, 100% of our packaging is recycled. This, in addition to our promotion of Bio-Fuels, Fuel Preservatives, and Fuel Saving Devices provides a positive contribution to the well being of our environment.
7. TITLE
Title of the goods shall pass from Oilybits to the purchaser following dispatch, and subject to full payment of all monies and taxes due. Cheque payments may be required to clear, the duration required for confirmation of clearance is dependent upon the working hours of our bank, LloydsTSB Bank Plc, but will usually be within 5 working days. In the event of a Credit Card charge-back or Cheque refusal for whatever reason, and should payment not be re-submitted within a reasonable period of time, Oilybits reserves the right to re-possess the associated goods, and shall have right of entry to the purchasers premises in order to retrieve the goods.
8. INFORMATION AND SPECIFICATIONS
Information and specifications, including photographs, drawings and diagrams, published by Oilybits are given in good faith but shall form no part of the contract. Oilybits reserves the right to alter specifications in line with manufacturers amendments and other information received. Oilybits, at the request of a customer may, but without being under any obligation to do so, furnish technical advice with reference to the use of the goods or material sold hereunder, but on the express understanding that any such advice or assistance is given and accepted at the customers risk and Oilybits shall not be liable for any loss, damage or claims arising there from
9. WARRANTY
Warranty offered is that of the manufacturer, and shall be limited to repair or replacement of the item as advised by the manufacturer. All products alleged as warranty failures should be returned to us for inspection at our address above, the cost of carriage & adequate insurance must be paid for by the customer but may be reimbursed if goods are faulty as per paragraph 5 above. Prior to return, customers should contact us to discuss the problem. No responsibility is accepted for consequential or liquidated damages in the event of product failure.
10. IMPORT DUTIES
The recipient of any goods exported outside of the EEA (European Economic Area) will be responsible for the paying of any Import Duty, Local Sales Tax, and Customs Handling Charges that are due when the goods enter the country of destination
11. TRADEMARKS
The Oilybits logo is a registered trademark and is protected by law, it must not be reproduced without written consent by the owner. Trademark number 2549047. We do offer Brand Licensee Agreements to third parties who feel that our brand could add value to their products and / or services. If you would like information on this please contact us with your proposal.
PRIVACY POLICY
Information we collect, and how it is used:
Oilybits will collect data in order to help provide site users and customers with the best possible service. We do this in several ways.
Personal Information:
Whenever you place an order we collect your name, postal address, email address and telephone number. This information is collected during the "Set Up An Account" stage. Our site does not facilitate progression through checkout without setting up an account, because the information required is the same in both cases.
We use this information to process your order, and communicate with you in respect of your order where necessary.
We also collect information when you enter a competition or register for our newsletter.
We may use the information collected to notify you about new products, money saving offers, news and changes to our website and web service. At each point where you are asked to provide us with personal information you will be given the opportunity to tell us that you do not want your personal information to be used in this way. If you later decide that you no-longer wish to receive such information from Oilybits, you can 'Unsubscribe' from our updates at any time (See 'Unsubscribing' Below)
We may also store and use information for the purposes of website and system administration, and fulfilment of customer service. For example, we keep details of your purchase in order to maintain records relating to product warranties etc.
We may analyse information collected for research, and for the development of our website and our services to benefit our website visitors and customers. This may include building records of individual visitors, which are combined together for analysis of trends and patterns in the usage of our website.
Unsubscribing:
If you later decide that you do not wish to receive such information from Oilybits, you can "Unsubscribe" from our updates at any time.
You must tell us the email address that you would like to unsubscribe. If your email is redirected from one email address to another, you should tell us the address to which we send our email updates. You can unsubscribe by sending a blank email to sales(at)oilybits.com entering the word 'UNSUBSCRIBE' in the title bar, or alternatively you can write to us at the address above.
Sharing information:
Oilybits employs other companies to perform specific functions on our behalf. Examples include the preparation and transmission of email updates, the delivery of packages, secure processing of payments etc. These companies have access to information in order to perform their functions for Oilybits, but may not use the information for any other purpose.
Your information is safe with us. Oilybits does not and will not disclose information to other companies for their commercial use. Ever.
Information queries:
We collect, store and process information in accordance with the Data Protection Act 1998.
If you have any queries with regards to personal information collected by Oilybits, please contact us at sales(at)oilybits.com or write to us at the address above.
Below - Oilybits delivering a storage tank - wherever you are, whatever the weather!