Location:

/
BioTruck'09
/
BioTruck'09
BioTruck Expedition 2009, Driving around the World on Vegetable Oil!
Oilybits are pleased to be a supplier of equipment and expertise for the Biotruck Expedition 2009. Full details are available HERE and HERE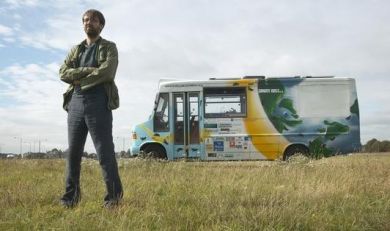 Mission Brief: Convert a 1989 Mercedes 709D 4.0 Litre 90BHP (Wow!) Diesel Mini Bus to run on SVO, WVO, and BioDiesel. The system must be capable of supporting the vehicle throughout the duration of its 25,000 mile Round The World Journey
Method: Install an Oilybits Centrifuge, Oilybits Fuel Filters, and Oilybits Heat Exchange System
20th June 2009 - At a location in Deepest Darkest Dorset!
Met with Andy Pag at 8.30AM at a Farm near Shaftesbury where the skeleton of Andys Mini-Bus has been sitting for the last few months
Work Completed Today:
Helped Andy to install a new floor to seat a 1200 Litre Auxillary Tank, which will potentially hold 960kg of Centrifuged WVO
Maneuvered the tank into place and began connecting the Outlet Fittings, and Sight Tube
Removed the severely decayed old coolant hoses (formerly inside heater supply hoses) and installed new hose, running to locations where the Heat Exchangers will be going
Constructed a bespoke Heat Exchanger which runs from mid way down the bus right up to the engine
Installed a Bypass Tube running back to the Auxilary Tank
24th June 2009 - Oilybits Headquarters
Today some Reducing Bushes turned up for the Fuel Changeover Valves, these convert the 3/8"BSP valves to 1/8"BSP, into which I fitted 8mm Push-Fit Hydraulic Connectors and 12" flying lengths of 8mmOD Nylon Hydraulic Tubing, this will enable the valves to be fitted in seconds as the original Diesel fuel supply & return tubes are the same size and connected with Push-Fit Connectors. Another advantage here is that if there are fuel system problems during the expedition then the Valves / Hoses can be "unplugged" without the need for any tools whatsoever. Also took delivery of 18 metres of pipe insulation to ensure the coolant travelling around the bus remains hot
31 July 2009 - Oilybits Workshop
Seeing as Saturday is the final day i have to work on the Biotruck, Ive managed to be disciplined enough this evening not to do any Oilybits picking & packing and have devoted my evening entirely to tinkering, finally switching the lights off in my workshop at 00:45!
Andys OB-20 Centrifuge from his Grease To Greece Car has been removed, cleaned, revamped with Stainless Fittings and a Glycerine Filled Pressure Gauge, and is now painted black with one of our new Stickers on it, in addition i have also added an air inlet port and a 12v 300psi air pump (A butchered budget tyre pump) to help it to drain more freely now that it will be installed in constricted pipework. I think I have managed to cobble together enough fittings to complete the various other outstanding jobs too but will just have to keep my fingers crossed that im not short of anything. I have got some special veg-oil resistant Viton Seals for the Polycarbonate Filters I have supplied Andy so this will eliminate potential filter seal problems during his epic journey
After a series of archaic drawings being passed back and forth between Greenfuels and Oilybits we also decided upon the final design of the Reactor system, high-tech 3D CAD drawing from Tom below: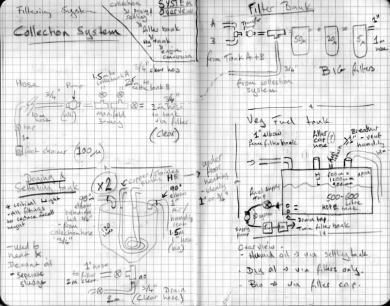 1st August 2009 - Somewhere in the Oxfordshire Countryside
A 5:30AM start on Saturday was the beginning of a very long day. The main objective was to finish our work on the Biotruck
I got to the bus and met with Andy and Esther, and the guys who were installing a Particulate filter to the exhaust system, this incredible device removes all carbon particles (soot), resulting in a Euro 6 emissions spec!
Work Completed Today:
7th August 2009 - Oilybits Headquarters
Tonight we recieved some details for the press release, including the official sponsor logos which im hoping my web designer can embed into our homepage before this whole thing kicks off
12th September 2009 - Biotruck Official Departure Gathering - Wimbledon Common, London
The day was a corker, blazing sunshine and plenty of people around. I met a couple of the other sponsors / supporters at the bus and got a few photogrpahs of the Oilybits equipment now that it is fully up and running
News Feeds:
Turkish News Report, Istanbul, 11/11/09
Andy Pag Arrested for Posession of Satellite Phone 15/01/10