Location:

/
Adventures
/
Adventures
Oilybits Adventures - Our Bio-Fuelled Blog...
The Non-Toxic Avengers, Mongol Rally 2010
Oilybits were pleased to be the Main Sponsor of The "Non Toxic Avengers", Mongol Rally 2010 Entrants!
The Non Toxic Avengers are a group of 3 American friends - Jenna Delp, Nick Dale, and Nicholas Supple, who, with the help of Oilybits will become the first team in history to complete the Mongol Rally (London, England to Ulaan Bataar, Mongolia) in a car powered by Waste Vegetable Oil, procured from restaurants and fast food outlets along the route
The Mongol Rally is in aid of charity, and the team will be raising funds for the Mercy Corps, and The Brad Delp Foundation:
The Mercy corps is a Mongolian Charity which exists to alleviate suffering, poverty and oppression by helping people build secure, productive and just communities
The Brad Delp Foundation is a charity set up by Jenna (Brads Daughter), his family, and friends to honor Brad's memory by awarding music related grants, scholarships and funding for school music programs. For those of you who dont recognise the name, Brad Delp was lead singer of the band 'Boston' and sang that awesome classic "More Than A Feeling" (See YouTube video at foot of page)
The Mongol Rally will leave london on 24th July 2010
Visit the Non Toxic Avengers Website HERE
See Jennas Interview on CBS2 Los Angeles News HERE
Team Advertisement Poster Showing Basic Vehicle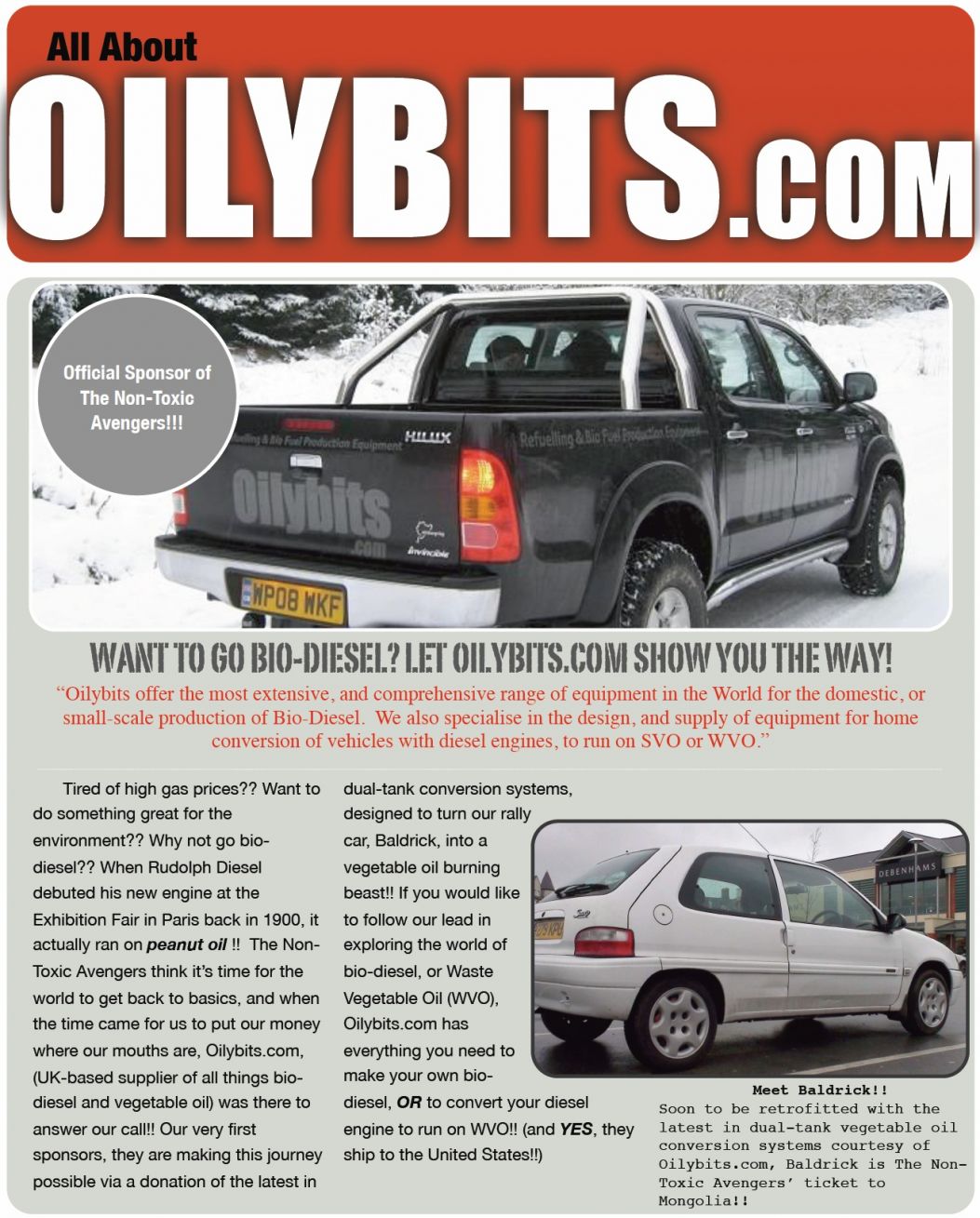 Conversion Check List
20L Auxilliary Fuel Tank, constructed from clear HDPE Jerrycan
Bespoke, 10mm Stainless Steel Fuel Pickup
And of course - A load of Oilybits Stickers!
Other Support Equipment
3rd July 2010
And so it begins! A 7.30AM arrival in Hammersmith was the beginning of a manic, but productive day. I met Jenna at a house where a friend was kindly storing the car for her, and she then followed me to Pit Start Garage in Acton, where we had booked a bay to convert the car. Everything went completely to plan and 8 hours later, Jenna drove out of the garage on 100% Biodiesel. The next stage of testing is an 1100 Mile drive from London to Inverness and back next weekend with her team mates using Waste Vegetable Oil, if it survives that then i am confident it will survive the trip to Mongolia. After completing the conversion we drove back to Hammersmith on Biodiesel, then to a pub for a pint
18th July 2010
Got a mayday call from the team to say the car was stalling on WVO and the trip to Inverness had been aborted, not good news, but we knew it could be nothing serious. After they had limped it back from Manchester I got under the bonnet and identified the problem to be a blocked engine bay fuel filter, this was removed (quite an effort as it appeared to be the original one - 10 years old!) and replaced with a new one, and the first test run on Jennas self-collected WVO took place. A successful 15 mile drive to Westbury and up to the top of the Westbury White Horse was enough to regain the teams confidence in the conversion, the view from the top proving well worth the effort, the Saxo flew up at 50 mph too, an excellent result, putting it in good stead for the challenges ahead. Note to team - when the engine starts spluttering or the RPM is limited, change the engine bay fuel filter at the soonest opportunity and keep spares!
Jenna also gave me my Team Shirt which made it all worth while, it fits too! what more could i have wished for :-)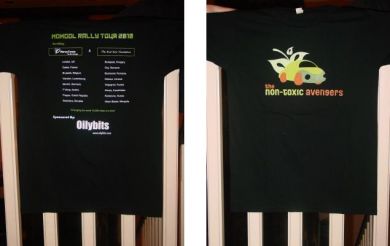 24th July 2010
The day weve all been waiting for! I made my way over to Goodwood for a 9AM start to the proceedings. What an excellent day too, the skies were blue and the sun was shining. Baldrick rolled in at about 9.30 with its 3 man crew, and we went around the back to the parking lot where all the cars and other vehicles were being organised. An incredible array of vehicles had been chosen, many of which i am sure will never make it to Mongolia... or back to Britain! 40 Ambulances, a Red Fire Engine, 3 Green Goddesses, and even a 6 Litre Rolls Royce Silver Spur, first owned by the King Nonce - Jimmy Saville! What a truly amazing line up. The spirit of adventure was certainly rekindled with fond memories of the grease to greece challenge flooding back, and i just wanted to jump in the Hilux and follow them all the way to Mongolia. Well, certainly something to think about for next year!
Team 'The Non Toxic Avengers', Entering the Goodwood Circiut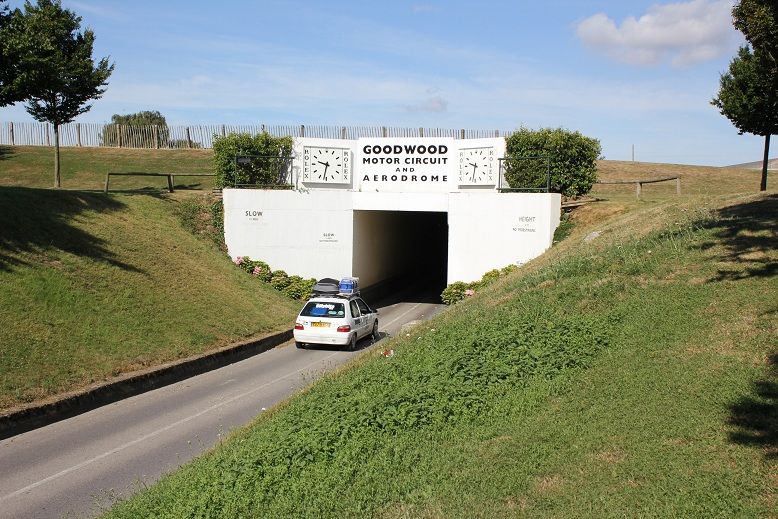 The Happy Trio!, Nick 1, Nick 2, and Jenna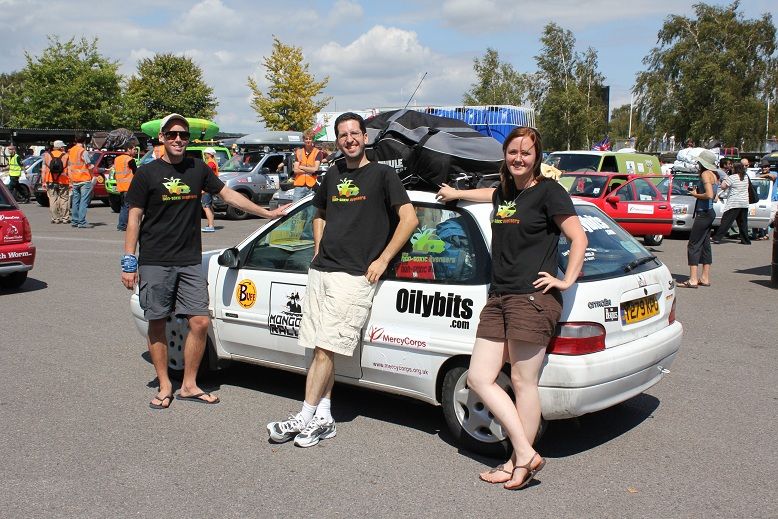 The team being interviewed on stage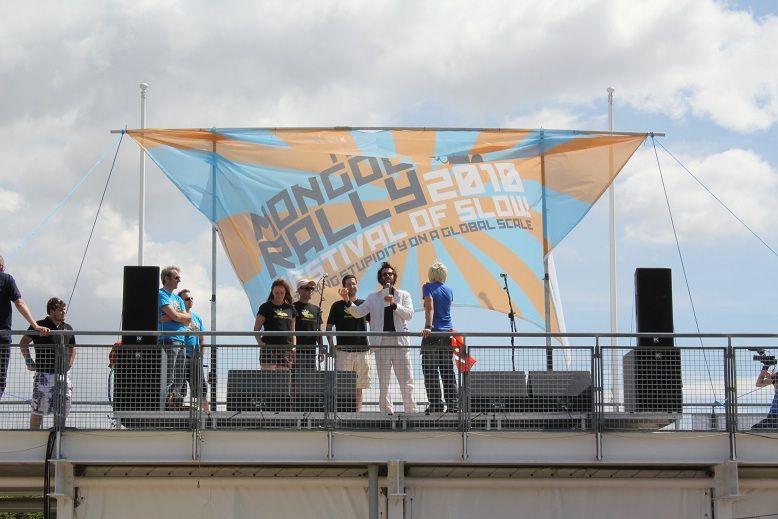 Team 'Green Man Country Club', in Jimmy Savilles old 1984 Rolls Royce Silver Spur
The 'Twats in Tweed', Love the barbecue guys, excellent idea!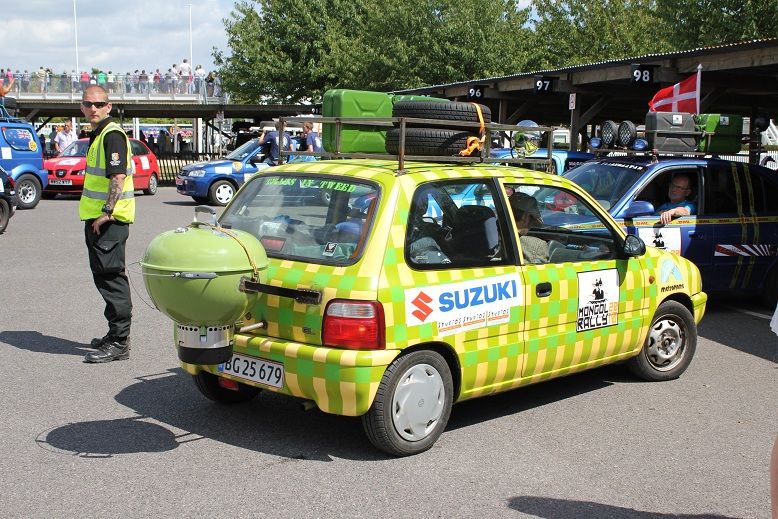 Still going strong, Green Godess Fire Engines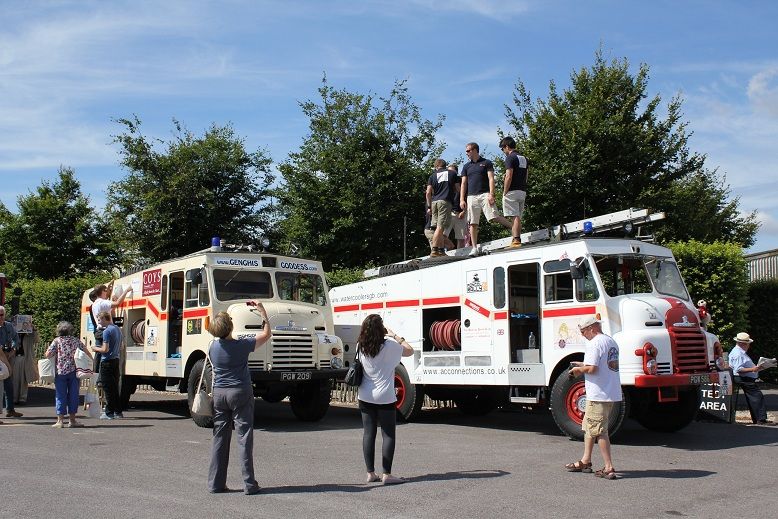 The Finished Article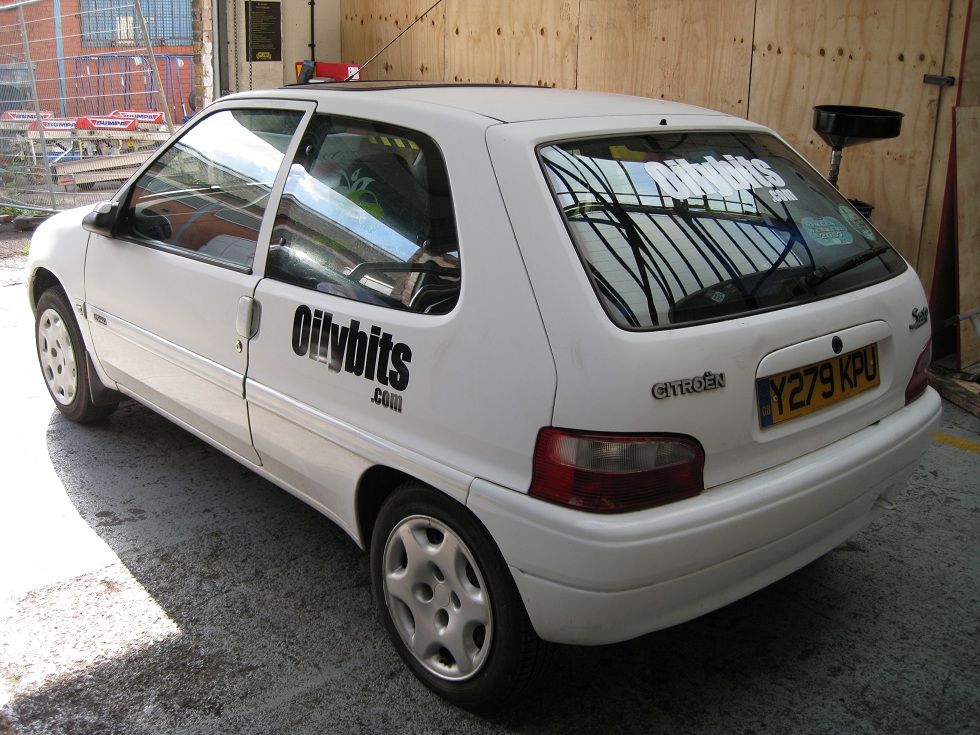 Baldrick with the Oilybits Hilux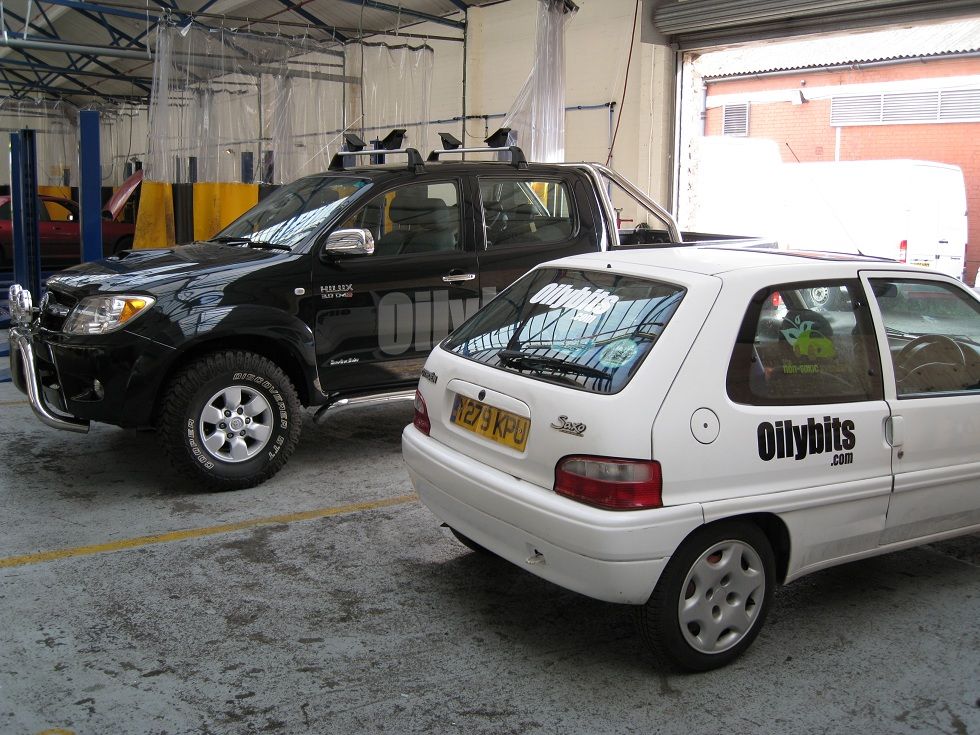 Oilybits Auxillary Fuel Tank (for WVO)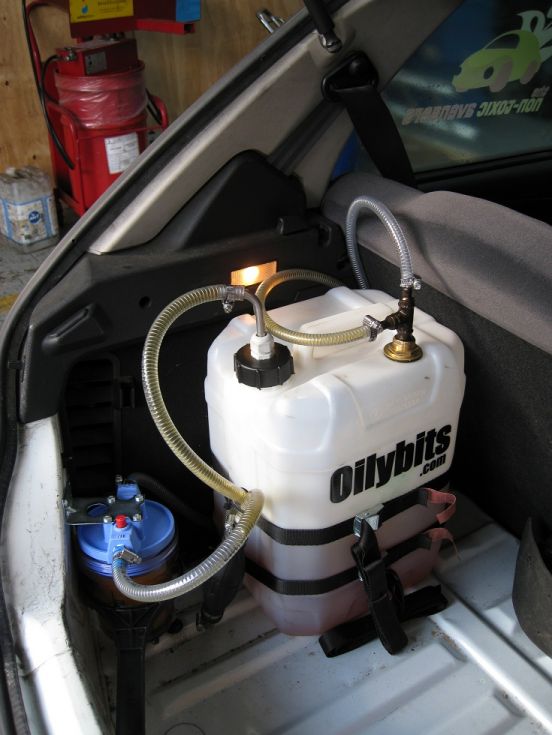 Oilybits Heat Exchanger
Boston - More Than A Feeling
BioTruck Expedition 2009, Around the World on Vegetable Oil!
Oilybits were pleased to be a supplier of equipment and expertise for the Biotruck Expedition 2009. Full details are available HEREand HERE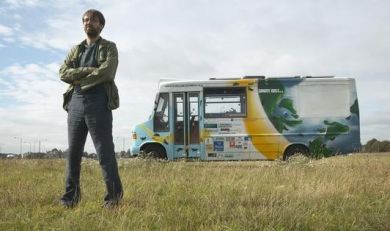 Mission Brief: Convert a 1989 Mercedes 709D 4.0 Litre 90BHP (Wow!) Diesel Mini Bus to run on SVO, WVO, and BioDiesel. The system must be capable of supporting the vehicle throughout the duration of its 25,000 mile Round The World Journey
Method: Install an Oilybits Centrifuge, Oilybits Fuel Filters, and Oilybits Heat Exchange System
20th June 2009 - At a location in Deepest Darkest Dorset!
Met with Andy Pag at 8.30AM at a Farm near Shaftesbury where the skeleton of Andys Mini-Bus has been sitting for the last few months
Work Completed Today:
Helped Andy to install a new floor to seat a 1200 Litre Auxillary Tank, which will potentially hold 960kg of Centrifuged WVO
Maneuvered the tank into place and began connecting the Outlet Fittings, and Sight Tube
Removed the severely decayed old coolant hoses (formerly inside heater supply hoses) and installed new hose, running to locations where the Heat Exchangers will be going
Constructed a bespoke Heat Exchanger which runs from mid way down the bus right up to the engine
Installed a Bypass Tube running back to the Auxilary Tank
24th June 2009 - Oilybits Headquarters
Today some Reducing Bushes turned up for the Fuel Changeover Valves, these convert the 3/8"BSP valves to 1/8"BSP, into which I fitted 8mm Push-Fit Hydraulic Connectors and 12" flying lengths of 8mmOD Nylon Hydraulic Tubing, this will enable the valves to be fitted in seconds as the original Diesel fuel supply & return tubes are the same size and connected with Push-Fit Connectors. Another advantage here is that if there are fuel system problems during the expedition then the Valves / Hoses can be "unplugged" without the need for any tools whatsoever. Also took delivery of 18 metres of pipe insulation to ensure the coolant travelling around the bus remains hot
31 July 2009 - Oilybits Workshop
Seeing as Saturday is the final day i have to work on the Biotruck, Ive managed to be disciplined enough this evening not to do any Oilybits picking & packing and have devoted my evening entirely to tinkering, finally switching the lights off in my workshop at 00:45!
Andys OB-20 Centrifuge from his Grease To Greece Car has been removed, cleaned, revamped with Stainless Fittings and a Glycerine Filled Pressure Gauge, and is now painted black with one of our new Stickers on it, in addition i have also added an air inlet port and a 12v 300psi air pump (A butchered budget tyre pump) to help it to drain more freely now that it will be installed in constricted pipework. I think I have managed to cobble together enough fittings to complete the various other outstanding jobs too but will just have to keep my fingers crossed that im not short of anything. I have got some special veg-oil resistant Viton Seals for the Polycarbonate Filters I have supplied Andy so this will eliminate potential filter seal problems during his epic journey
After a series of archaic drawings being passed back and forth between Greenfuels and Oilybits we also decided upon the final design of the Reactor system, high-tech 3D CAD drawing from Tom below: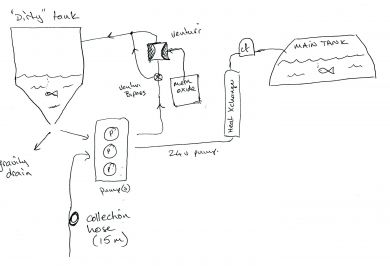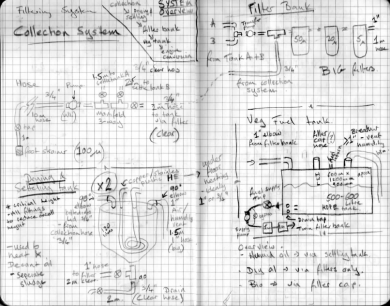 1st August 2009 - Somewhere in the Oxfordshire Countryside
A 5:30AM start on Saturday was the beginning of a very long day. The main objective was to finish our work on the Biotruck
I got to the bus and met with Andy and Esther, and the guys who were installing a Particulate filter to the exhaust system, this incredible device removes all carbon particles (soot), resulting in a Euro 6 emissions spec!
Work Completed Today:
7th August 2009 - Oilybits Headquarters
Tonight we recieved some details for the press release, including the official sponsor logos which im hoping my web designer can embed into our homepage before this whole thing kicks off
12th September 2009 - Biotruck Official Departure Gathering - Wimbledon Common, London
The day was a corker, blazing sunshine and plenty of people around. I met a couple of the other sponsors / supporters at the bus and got a few photogrpahs of the Oilybits equipment now that it is fully up and running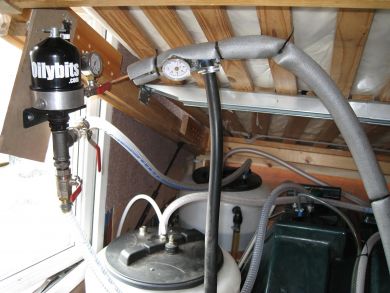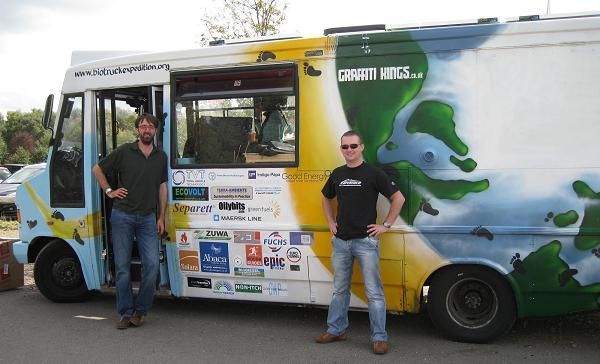 News Feeds:
Turkish News Report, Istanbul, 11/11/09
Andy Pag Arrested for Posession of Satellite Phone 15/01/10

Grease to Greece Rally 2008 - 12 Countries, 12 Days

United Kingdom - France - Belgium - Germany - Austria - Italy - Slovenia - Croatia - Bosnia - Montenegro - Albania - Greece
The Blog:
02/08/08 No Longer An Ugly Pug! Following about 2 months of sitting idle and collecting Bird Lime, the Peugeot finally got its first make-over session. The vehicle graphics supplied by Organiser Andy Pag went on a treat with few bubbles and the car looked very smart, in addition to this we prepared the auxillary fuel tank, built Hand operated & 12v waste Oil Collection Pumps, and part installed a Heat Exchange Loop under the bonnet, this leaves a heck of a lot to do next weekend but thankfully brother Andy and Friend Lyn Mortimer will be on hand to help out and provide moral support
03/08/08 Weve Struck Oil! After a few months of fruitless begging for waste vegetable oil, mother stepped in with the offer of making a few phone calls for us and we ended up with a WHOPPING 300 LITRES from one days effort... without paying a penny for any of it! Absolutely incredible, in real terms, if we were travelling direct to and from Athens that would actually be enough to carry us the entire way without refuelling... and at a cost of absolutely nothing! Our new Toyota Hilux Invincible proved extremely useful in lugging the slimy tubs of oil back to base
04/08/08 Caught by the paparazzi! So much for a lunch break, returned home to find a man with a seriously big camera waiting for me on the driveway, this turned out to be a photographer from "The Wiltshire Times" who had come to take some snaps of the car. Posed as instructed with a bottle of vegetable oil (not something I often do I hasten to add) and was advised that I would be the Page-3 Spread! Oooh Matron!
09/08/08 - Oxtail Soup For Coolant! Started work at 9AM, Mort affixed the Pollak 6-Port Fuel-Selector Valve inside the engine bay, i wired it in, featuring a thunderbirds-style Changeover Switch in the 'cockpit' for extra effect, andy fitted the fuel tanks in the boot, and Reinforced PVC Hoses through to the engine, then the coolant system was bled through with a hose pipe, I dont think this had been done for a million miles, as the old coolant was like Oxtail Soup! Finally the diesel lines were primed through the Pollak Valve, it looks fabulous!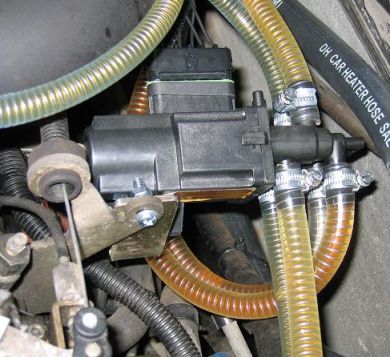 10/08/08 - No Leaks At All! Gave the engine its first warm up with the Heat Exchanger fitted, perfect result! and no leaks either! The Coolant Thermometer says 80 celcius and i would be amazed if the fuel coming through the Heat Exchanger isnt also at this temperature, this should work a treat when we get the veg oil going through. Brushed away a mountain of chopped cable ties and hose ends and drove to a friends garage for a free check-over, a few minor problems were repaired including a few holes in the exhaust and an air lock in the cooling system, our air con was sadly declared deceased but not to worry, as I will chop the roof off if it gets too hot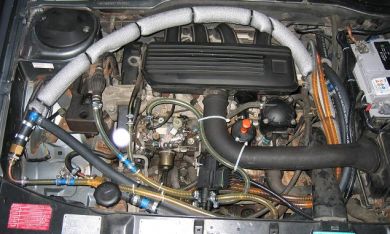 11/08/08 Greased Up and Ready To Go! Fitted a Priming Bulb on the veg oil line in the boot, along with a 5" Clear Bowled Particle Filter to trap any dirt that manages to get into our fuel tank, filled the tank with a little WVO, loosened a Fuel Hose on the Pollak Valve and squeezed the Priming Bulb. Within a few minutes the system was completely flooded and ready for the first hot veg-oil switchover tomorrow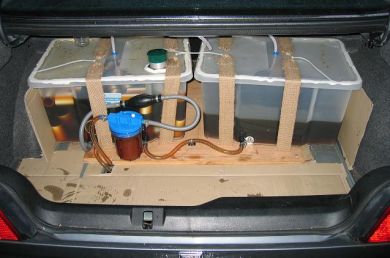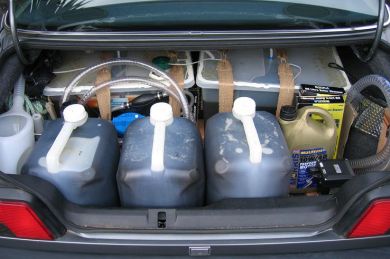 13/08/08 Thunderbirds Are Go! The moment of truth - Started the engine and got the coolant up to temperature, flicked the Veg Oil Control Switch which selected the auxillary WVO tank as the source tank, automatically isolating the Diesel tank, we then watched nervously as the brown veg oil travelled down the Clear Hoses into the engine... and gave a sigh of relief when it came through the bypass with no change in engine tone at all, excellent job. Took the car to show Lyn Mortimer who had helped modify it, then back to base on veg oil where i part installed the Centrifugal Oil Cleaner and High Pressure Oil Pump and started packing my bags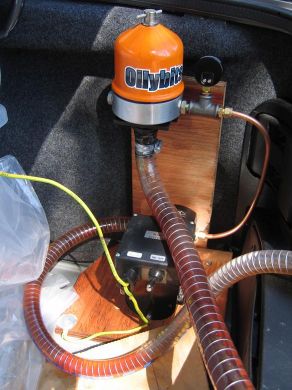 See Team Oilybits OB-20 Centrifuge on YouTube:
See Andy Pags OB-20 Centrifuge on Blue Peter:
16/08/08 Day 1 A 5AM pitch-black start to the day was required for final packing that we hadnt had time to do, we then filled the auxillary tank with veg oil, and got straight on the road to London for an 8.30 gathering at the Ace Cafe. Andy and I decided to go along in dodgy Wigs, Tashes, and Aviators to make the ensemble look a bit more interesting and ended up being hounded by the press, one photographer buying us a greasy breakfast to get some unique photos, which ended up being published on almost every major news channel in Europe, including on the BBC News homepage!. A friend even found us plastered across the news in New Zealand! After the press gathering we collected our donated "Rough Guides" guide books on the 10 countries we will be visiting, and made our way to Dover to the Speed-Ferries terminal for our 10PM crossing to Boulogne, having been given heavily discounted tickets by Speed-Ferries. The drive down wasnt without event, with our car being swiped by a belgian lorry who changed lanes without looking, this led to us ploughing into the lorry then having to beach the car on a pile of traffic cones, the lorry driver didnt even notice and drove on, leaving us in a bit of a mess. Fortunately Andy Pag wasnt far behind and pulled over to help remove cones from beneath the car, and we were soon back on the road, albeit with our auxillary tanks ruined and veg oil sloshing around in the boot. After arriving in Boulogne we made our way to a quirky little campsite called "Camping Des Trolles" for the night, and had a "Troll Beer" nightcap in their bar, which was a converted coach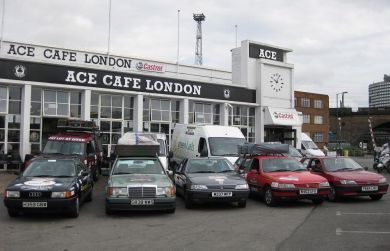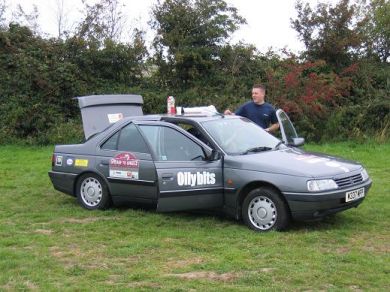 17/08/08 Day 2 Woke up to torrential rain, the was no time to fix the damaged tanks but we managed to collect some more waste veg oil from the campsite which was of excellent quality. Drove down through Belgium into Germany, stopping for the night at the Nurburgring Campsite (Costing a hefty 50 Euros), where we pitched up, then took a few of our bangers around the Nurburgring (21 Euros per lap - an absolute bargain!) Sadly the Oilybits car was too damaged to race but I went round in Greenfuels VW Touraeg, which soon decided that it had been stolen and went into limp-mode limiting us to about 30mph. After the racing we returned to the site to begin repairs to our beaten-up car and complete assembly of our Centrifugal Oil Cleaner, fortunately all went smoothly and we had the tanks re-installed and the car working perfectly again before nightfall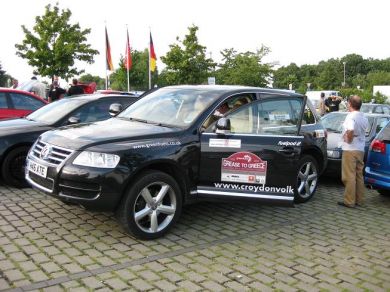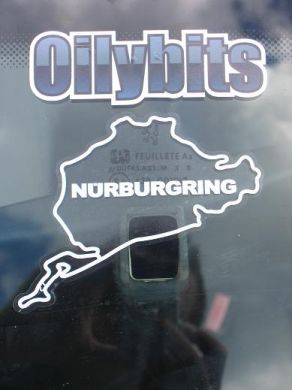 18/08/08 Day 3 Drove to Munich, somewhere along the way our throttle pivot (helpfully pivoted through the top of the fuel pump) developed a huge leak and when we arrived at the Camp Site there was veg oil pouring out from under the engine and a trail of drips all along the highway to the site, no time to fix it though as the Beer halls were calling, so we put a drip tray underneath and headed for the town, i used my German tongue for the very first time at the tram station where i successfully gained directions to the town centre, i was rather pleased with myself! Spent the evening crawling the smorgesbord of bars and gentlemens clubs, finishing up with a kebab in true Brit fashion and returned to the site at 5AM. Interestingly the streets of Munich are covered - LITERALLY! in mice at night, eating any morsels that revellers drop for them, was pleased i had made the effort to put some shoes on instead of my flip flops
19/08/08 Day 4 Packed the tents away and began repair on our leaky throttle pivot, managed to repair it effectively by cutting external gaskets from a rubber sheet we had and a nylon washer made from part of my toolbox lid that was sacrificed, we also found coolant in the drip tray but soon spotted where that was leaking from and fixed that also. We then hit the road to Bormio, Italy! The drive down was fantastic, we passed through Austria and into Italy where we stopped at the foot of the Stelvio pass to regroup for the ascent. After fixing an air leak on Smartveg's fuel tank, we then had a fantastic 8 course meal in a hotel but had to walk out on the last 3 courses due to time (why do the Italians take so long to eat?). All teams made it to the top of the Stelvio Pass apart from Smartveg, who had switched to veg half way up the pass and broke down due to an airlock, flattening their battery trying to re-start in the meantime. We waited at the top of the pass for James to return in the Touareg and descended with him for the midnight rescue in probably the most difficult-to-recover place in Europe. After an hour of fidding around under the bonnet and working out how the Smartveg system worked, the Audi eventually burst into life and made it to Bormio in convoy, Oilybits 1, Smartveg 0, but Ben did pay for the meal so he escaped a big greasemark fine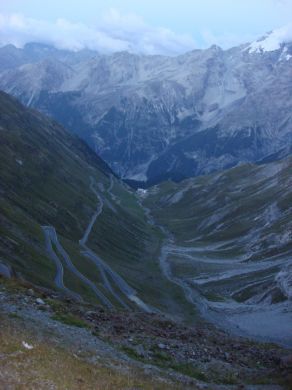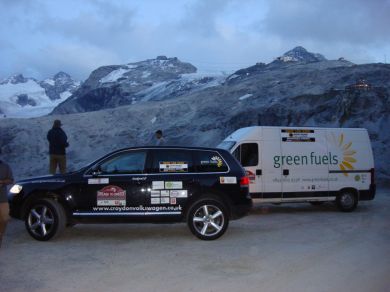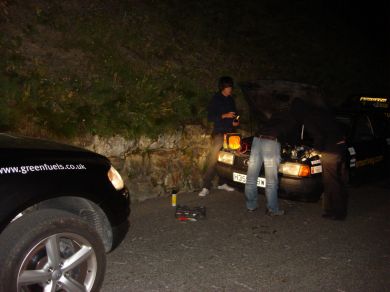 20/08/08 Day 5 Woke up in the pleasant surroundings of the mountains, found another leak on our car, seems the veg oil has softened the PVC Hoses in our conversion already, tightened a few Jubilee Clips on the Fuel Selector Valve Tails which cured the problem, then made our way through the mountains. Had a go driving the Greenfuels van whilst our Ozzie cameraman Steve Couri got some footage and sneaked in a few impromptu interviews as I drove, high altitude switchbacks were not much fun in the van, we had to reverse on the bends as they were too sharp to get around in one sweep. we pushed through the Alps via Passo De Tonale Ski Resort, then arrived at our campsite in Venice, didnt hang around at the site for long, Centrifuge'd one batch of oil then jumped in a Cab followed by Water Taxi to St Marks Square for a bottle of Vino, a superb end to a long day
21/08/08 Day 6 Our first day off, perused the various tat shops in venice and then went out with the other team members for a seafood meal and a few drinks. The Water Taxi which took us about half a mile to the Taxi Rank cost a whopping 80 Euros! Argh (it was very posh though and grumbled along like a Lamborghini!)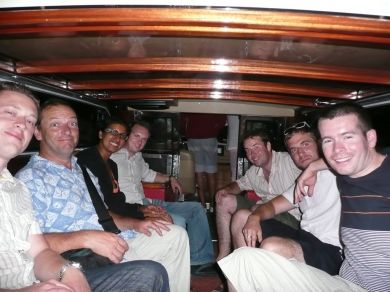 22/08/08 Day 7 Up at the crack of dawn, and on the road to "Punat" on the Island of "Krk", in Croatia. Passed effortlessly through the Slovenian and Croatian (after a few questions on whether we were smuggling guns or tobacco!) border crossings and headed toward Rijeka, we found the road to Krk easily and motored on down to Punat where Andys friend "Woffie" and his girlfriend were staying on his yacht - A Beneteau Oceanic 351! ruddy show off. Went out for a meal and a few beers, had a few more on deck then retired to our cabins onboard for what proved to be the best nights sleep of the trip, Woffie then presented us with a bottle of used vegetable oil from his own chip pan to help us on our way!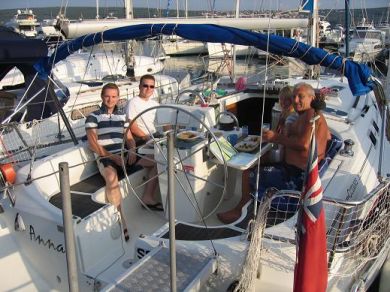 23/08/08 Day 8 Before leaving Punat we had to replace our priming bulb, as again it seems the veg has been nibbling away, somehow it imploded on the way down starving the engine of fuel so we had to switch to bio-diesel, a simple repair though and helpful that we were in a marina where priming bulbs were readily available. We then drove from Punat to Baska Polje where we met the others at the next campsite, spent the evening snorkelling, then boozing in the many beach-clubs (literally on the beach) of Baska Voda with James and a few others. Woke up to find our wallets empty, seems the sneaky locals charged us pounds instead of "kuna" which meand we must have been paying about £8 a pint instead of £1... ouch. Got a cracking pic of James in the morning, keep away from that steering wheel you booze-hound!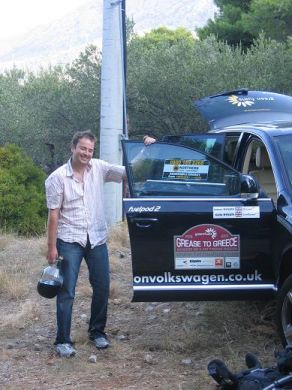 24/08/08 Day 9 The first day of dubious border crossings. First pass was Bosnia - easy peasy, beautiful place too, next stop Montenegro, lots of paperwork required, lost one team due to insufficient documents then regrouped on a beach for the convoy drive to the campsite. The campsite turned out to be more of a refugee camp with people sleeping rough in shipping containers and old cars, we decided it was unsafe to stop and carried on through Budva. It was amazing to see the divide between rich and poor, we saw about a dozen Hummer H2's on 10km of road to Budva, yet the poor are sleeping rough in the fields, amazing. Found a safe campsite on the road out of Budva and stayed the night, no refugees there, just lots of stray dogs limping around begging for food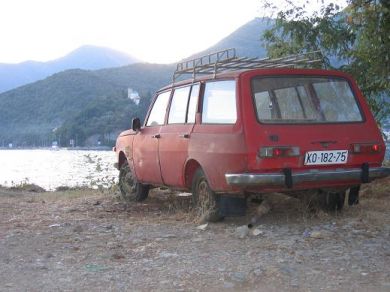 25/08/08 Day 10 Facilities on site were pretty basic, the toilet block looked like a Soviet field-prison and smelt like a tub of maggots (a fond memory from my fishing days) there weren't even any "normal" toilets, with the local device being a pit in the floor which you squat over and a hosepipe, not my style at all. Packed away tent, had another border briefing then motored on to Muriquan where we would pass into Albania, the road was difficult to find and we had to navigate around sleeping Donkeys, Tortoises, and Gypsy Carts on the road but found it in the end. Again heaps of documents required and had to cough up for a Visa, which we guarded with our lives as you cant leave Albania without surrendering it. Albanian Driving is something else, it is literally all about tailgating and overtaking, and after half an hour you step into this sucidal mode yourself, we even saw double overtaking with oncoming traffic (yes 4 cars wide - 2 overtaking the one car in lane, and 1 car oncoming!), quite amazing. Some towns appeared to be comprised only of roadside scrapyards, and we found the origins of the "Cut-And-Shut" with most scrapyards having halves of cars for sale, which you would just weld on to the good half of your own wrecked motor. We found the only good road with the help of a friend in the Army then continued through the mountains toward the Greek border, the border was passed with ease and we reached Ioanniou boating club in good time. Site fantastic, washed car, had a welcome shower then a decent meal and plenty of drinks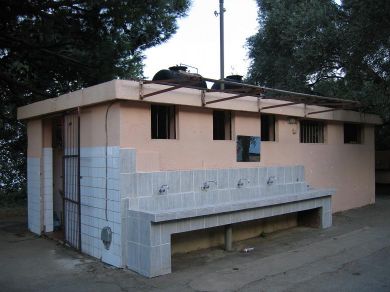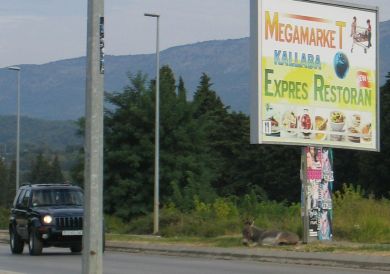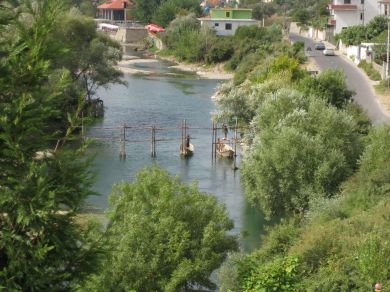 26/08/08 Day 11 Next stop Athens! A long, but efficient drive down through Greece via Patra resulted in us being the first to arrive in Athens, and amazingly with 1/4 tank of bio diesel and about 5 litres of Vegetable Oil left, a truly carbon-negative 2500 mile drive, we were really amazed what we had achieved, soon after arriving, the BBC phoned me for a live interview which went well. Everybody was so tired we just spent the evening tinkering with the cars ready for the media onslaught tomorrow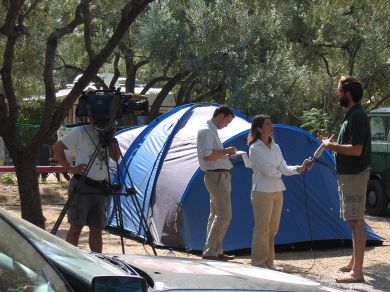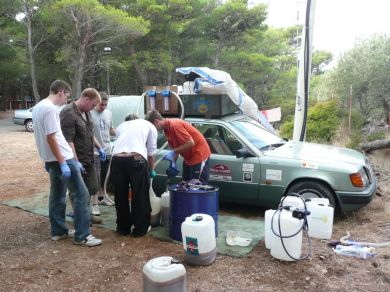 27/08/08 Day 12 Woke up to find the Reuters TV cameras all over the site, interviewing anything that spoke English, we then all embarked for a quick convoy drive for the cameras up and down the highway causing traffic mayhem, before donning our bow ties for the welcoming ceremony at the British Embassy in Athens. Arriving at the embassy the welcoming was fantastic, we were provided with a buffet lunch and free bar, and we were all congratulated for our challenge and given bottles of olive oil as a momento by the British ambassador, Simon Gass, who also presented Andy Pag with some Ferrero Rocher! Andy was made up! Finally Andy announced Oilybits as the winners and presented us with our trophy - An "Autoram" Antique Brass Grease Gun! This was excellent news for us and was based on us having made the journey with the lowest carbon footprint, we had also donated fuel to others who had run out and repaired a few broken down cars, so this had all helped us toward winning. After leaving the embassy we had a mooch around Athens then began the drive home, this took us via Patra, on a ferry to Ancona, then through Chamonix to Calais and to Britain via the Eurotunnel, arriving in the UK on the 30th. Amazingly the drive down cost us virtually nothing, but the drive home with ferries, expensive Italian and French road tolls, and Diesel expenses cost us £800, so if there is a next time we will almost certainly be returning on veg oil - The long way!
Following the event the orgainsers compiled a trip report for the Royal Geographic Society, this can be viewed HERE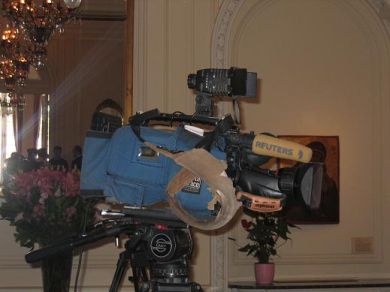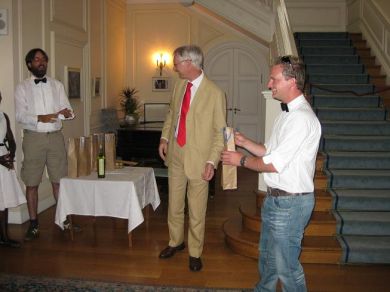 AWARDS:
August 2008 - Grease To Greece Trophy, Autoram Grease Gun, Made in the U.K.... A long time ago!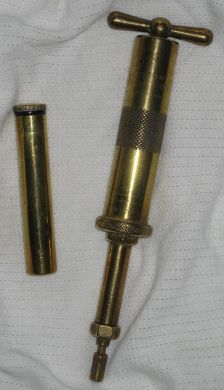 April 2009 - Trowbridge Town Council, Civic Award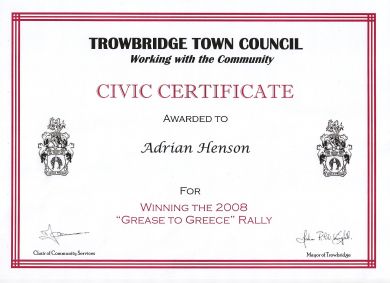 NEWS FEEDS:
BBC News
BBC News
BBC News
Reuters
Reuters (Video)
TV REPORTS:
BBC News
YouTube
YouTube
BBC News
CBS News
Thanks to the following for their help & support:
LDM Consulting
The Wiltshire Times - www.wiltshiretimes.co.uk
BBC Wiltshire Sound - www.bbc.co.uk/wiltshire/local_radio/radio_wiltshire/
Reuters - www.reuters.com
Townsend Motors, Broughton Gifford
Rough Guides - www.roughguides.com
Green Fuels - www.greenfuels.co.uk
Smartveg - www.smartveg.com
A Selection of Local Pubs & Restaurants, who shall remain nameless at their request
The Oilybits Vehicle Specification:
Make - Peugeot
Model - 405 GLXD Saloon
Year - 1995 (M)
Engine Size - 1.9 Litre (Non Turbo)
Insurance Class - Unknown, insured with more-than who ignore non-performance enhancing mods
Fuel Type - Diesel, City Diesel, Bio Diesel B100, Mixes of Diesel & Bio Diesel (Any Ratio), Vegetable Oil
Mileage - Approximately 145,000
Previous Owners - 14
Standard Features - Central Locking (Except boot which is dead-locked independently), Air Con (Deceased), Electric Windows, 5 Speed Gearbox, Pioneer CD Head Unit - WOW!
Modifications - Auxillary Vegetable Oil Tanks & Selector Switch, Coolant-Fed Heat Exchange loop